Introduction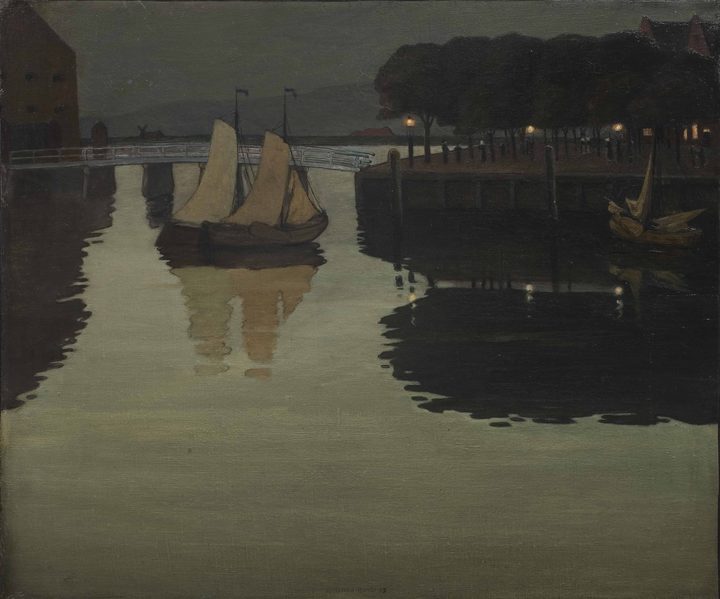 The Hirschsprung Collection has a unique archive containing more than 25,000 letters to and from artists as well as other documents, including personal journals, scrapbooks and photographs. One of the sub-archives is art historian Emil Hannover's archive, which was donated to the Hirschsprung Collection as a bequest in 1923.
Emil Hannover (1864–1923) was the first director of the Hirschsprung Collection and a leading art critic around 1900. The many different types of networks related to his positions as a museum professional, an art critic and a writer are represented in the archive, which contains about 6,500 letters involving about 825 letter-writers. As a cross-section of 19th-century Danish art history, the archive is impressive in extent and width but also in depth: some of the preserved letter exchanges are quite extensive, including the correspondence between Hannover and painter Johan Rohde (1856–1935).
The material that has been placed online so far is focused on Hannover's correspondences in 1887–1910. During this period, significant institutional changes took place in the Danish art world, and the establishment of Den frie Udstilling (the Free Exhibition) in 1891 is a prominent topic in the letters. Johan Rohde was the driving force in the group of artists who established this exhibition forum as an alternative to the Royal Danish Academy of Fine Arts' juried exhibitions at Charlottenborg and wrote numerous letters to Hannover during his sojourn abroad in the summer of 1892. During this stay, he painted a series of lyrical evening scenes from Hoorn, north of Amsterdam, among other paintings. However, when he first arrived, in June 1892, he doubted whether his stay would be productive: 'I am far from sure that I will be able to paint here, but I do like the place, a small, peaceful provincial town on the Zuiderzee.' His doubts notwithstanding, his painting Sildig aften ved havnemolen i Hoorn was presented at Den frie Udstilling the following year, and in the Danish newspaper Politiken, it was described as one of Rohde's 'excellent landscapes among which a couple of evening scenes from a small Dutch town stand out in particular. With their larger, fresher approach, they seem to herald a new era in the artist's production.'
This small excerpt represents just a tiny snippet of the wide-ranging exchange between Hannover and Rohde, not to mention Hannover's correspondence with numerous other artists, including Harald and Agnes Slott-Møller, P. S. Krøyer, Sofie Holten, J. F. Willumsen and Ludvig Find. The material in the archive offers fascinating and nuanced insights into personal connections, preferences and alliances as well as art and exhibitions around the time of the founding of Den frie Udstilling and the early, turbulent years of the 1890s. You can follow the exchanges here.